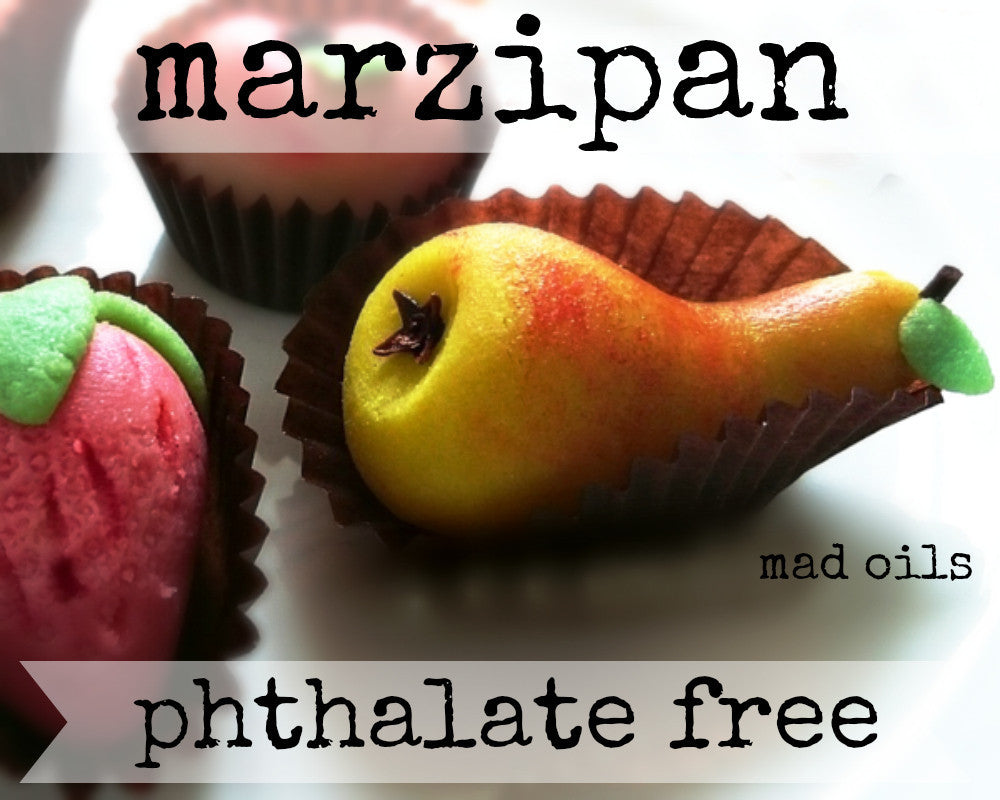 Mad Oils
Marzipan Fragrance Oil
Marzipan is a confection that has a consistency of a lightly whipped fudge or condensed paste but is made of ground almonds with sugar and egg white. Tastes delicious!  Some even say about this oil:  "Smells like sugared almonds with the slightest hint of cherry".
 __________________________
* BULK ORDERS:
One single drum yields 25 lbs. of fragrance.  LEAD TIME: approximately 2 weeks.  Please plan your product production schedule accordingly.
Flashpoint: 162° F (72.22 C)
YES, it now is PHTHALATE FREE!
Vanillin Content: 1.3%
*
The International Fragrance Association  (IFRA)
Guidelines for safe usage of fragrances and essential oils in perfumes and skincare.  The following is a excerpt from the IFRA category list with maximum percentage for safe use.  Please see IFRA Certificate (will post by end of day August 31)
Category 1:

0%

                         Category 7:  0.1%
Category 2: 0.2%                        Category 8: (body powders)  1.4%
Category 3: 0.6%                        Category 9: (bar soap)  7.2%
Category 4: (lotion)

0.6

%          Category 10: 6.0%
Category 5:
0.3

%                         Category 11: (Candles) 100%
Category 6: 0%
This product is in compliance with the IFRA, if the fragrance is used in the noted applications listed above at the indicated maximum concentration levels.  
"
Maximum Levels of Exposure To Skin
" is the measurement of fragrance oil that can come in contact with skin. It doesn't mean that your product
can
perform at these levels.
You must test all oils in each application for evaluation of safety.
_______________________
Soap Notes:  No acceleration.  Scent sticks like glue.
Our recommended usage rates:  
CP soap:  .9 oz per lb. of oil
MP soap:  .9 oz per lb. of soap base
Bath and Body products: 1-3%
DOCUMENTATION IS AVAILABLE HERE.  (Material Safety Data Sheets (MSDS) and Safety Usage Limits (IFRA Certificates)) 
Prices:
4 oz:  $ 10.95
16 oz:  $ 29.75
---
More from this collection