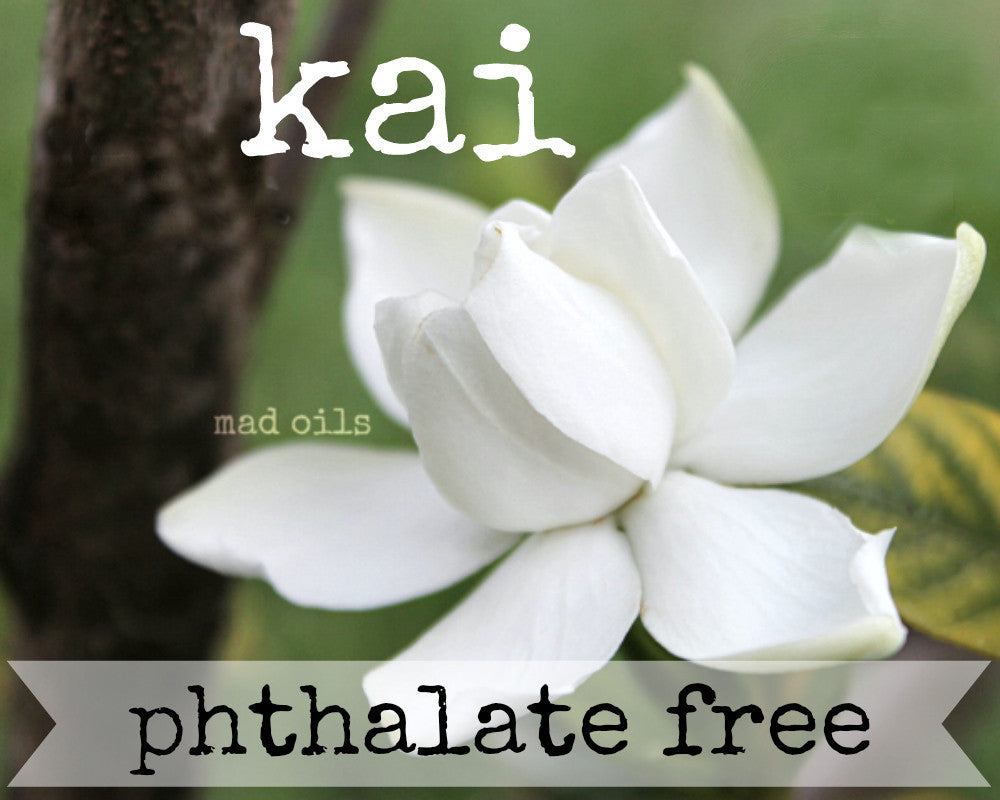 Mad Oils
Kai Type Fragrance Oil
Kai has been a "go to" perfume oil for Joanna for years.  She was given a small roll-on bottle that she coveted and used sparingly. She never really thought about what the scent description was, but it was unique.  
Kai perfume was created by Gaye Straza as a way to connect to her childhood memories of time spent in Hawaii.  The perfume is floral; with notes primarily of Gardenia wrapped in plump Plumeria petals, Tuberose, Lily and Pikake, a climbing jasmine.
Lo and behold, we had our perfumer create a fragrance just like it so we can offer it to you. It smells just like the perfume.  
_____________________________
* BULK ORDERS:
One single drum yields 25 lbs. of fragrance.  LEAD TIME: approximately 2 weeks.  Please plan your product production schedule accordingly.
Phthalate Free
Flashpoint:  > 200 ° F (no shipping restrictions)
Vanillin Content:   Ethyl Vanillin: 0.2%  Vanillin: 1.9%
-
IFRA class(es) Level of use ( % )
The International Fragrance Association  (IFRA) Guidelines for safe usage of fragrances and essential oils in perfumes and skincare.  The following is a excerpt from the IFRA category list with maximum percentage for safe use.  
Category 1 (lip care, toys):    Not allowed       
Category 2 (body spray, deodorants):  1.3%                    
Category 3 (shaved skin care, baby, eye care):   13.7%                 
Category 4 (lotion, perfume, foot & hair care)  64.6%   
Category 5 (baby powder, facial care, shampoo):  33.8%                  
Category 6 (mouthwash, toothpaste):  Not allowed  
Category 7 (baby & intimate care):  1.3%  
Category 8: (nail & hair care, body powders)  6.4% 
Category 9: (bar soap)  13.7%
Category 10 (detergents):  8%
Category 11: (candles) No restrictions
This product is in compliance with the IFRA, if the fragrance is used in the noted applications listed above at the indicated maximum concentration levels.  "Maximum Levels of Exposure To Skin" is the measurement of fragrance oil that can come in contact with skin. It doesn't mean that your product can perform at these levels. You must test all oils in each application for evaluation of safety.
SOAP NOTES: 
Fast mover in CP Soap. It smells great in CP soap and it seriously sticks!
Our recommended usage rates:  
CP soap:  1 oz per lb. of oil
MP Soap: 1 oz. per lb. of soap base
Bath and Body products: 1-3%
Tested in cold process soap with NO water discount at room temperature.  Accelerated rather quickly but did not seize or rice.  If you are making a multicolored soap, we recommend you make a small test batch to see how it works in YOUR recipe.  
As with all of our CP soap testing, we use a water to lye ratio of 2:1 (no water discount) at room temperature. 
DOCUMENTATION IS AVAILABLE HERE.  (Material Safety Data Sheets (MSDS) and Safety Usage Limits (IFRA Certificates)) 
Prices:
4 oz:  $ 11.75
16 oz:  $ 31.95
---
More from this collection